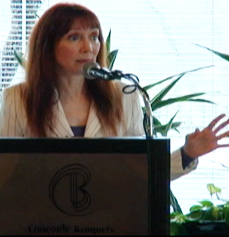 Chris Rich is a professional comedian and an accomplished actress, who has been seen on ABC's The View, Comedy Central, and the Lifetime Network.
Through gripping stories, hilarious punch lines, and practical advice, Chris takes audiences on a journey of how she persevered through physical and emotional pain and discovered how to laugh again. Her presentation, entitled "Healing My Funny Bone", is a true account of her struggle to get her heart, mind, body, and sense of humor back after being severely injured in a plane crash during which she witnessed the pilot abandoning the passengers to their fate. She is literally a survivor, at first by accident, surviving physically but feeling her belief in humanity, sense of humor, and overall sense of hope were destroyed.
Then she became a real, conscious survivor, able to share how she re-shaped tragedy to comedy and in the process found a new sense of purpose. After years of finding life to be less than funny and fearing that she might end up writing for infomercials or, even worse, Alec Trebec's Jeopardy contestant interviews, instead there's a happy ending, with lots of laughs, as she tells how she has come full circle to far more success as a comic, speaker, TV staff writer (for funny shows!), and, most importantly, as a human being. Now, she is showing others how they can change their lives by changing their perspective.
Why Hire Chris Rich? Click HERE to find out why she's so popular!